Meet Me on Monday
okay
never done this before
but i decided to do this whole
meet me on monday blog hop
thing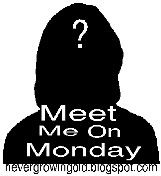 so here goes
1. what is your favorite kind of fudge?
i started making my own
chocolate mint fudge
a couple of years ago
and it's my absolute fave
2. is there snow outside your window?
sadly, yes
and lots of it
it's been looking a lot like this lately
3. what is your favorite meal of the day?
any meal i don't have to cook
like lunch today, for instance
when we're ordering pizza at co-op
4. do you text on your cell phone?
yup
5. waffles or pancakes?
waffles
definitely
Labels: link-ups